This article can be read in the following language: 日本語 (Japanese) 한국어 (Korean) 简体中文 (Chinese (Simplified)) Tiếng Việt (Vietnamese)
Have You Installed Residential Fire Alarms Yet?
Residential fire alarms are the devices that let you know by sound that a fire has broken out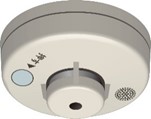 at your house. They are very important in order to reduce fatalities from delay in escaping and to avoid losing homes or properties. Minoh City requires every household to install residential fire alarms, which need to be installed in bedrooms, kitchen, and stairway of all the houses. One important thing you have to keep in mind is that if your fire alarms get too old, they can't sense fire well. The expected life span of the devices is about ten years. If you installed them more than ten years ago, you should immediately replace them with new ones.
If your house is still without residential fire alarms, please install them as soon as possible. You can buy the devices at an electric shop or a DIY store (so-called "home center" in Japan), and install them by yourself.
※The Minoh City website gives detailed information including where/how to install the fire alarms in easy Japanese and English.
https://www.city.minoh.lg.jp/jinken/kokusai/guidebook/jfirealarm.html (Japanese)
https://www.city.minoh.lg.jp/jinken/kokusai/guidebook/firealarm.html (English)
For details: Fire Prevention Office, Fire Department Headquarters (Shobo Honbu Yobo-shitsu)
Tel: 072-724-9995 FAX: 072-724-3999
e-mail: yobou@maple.city.minoh.lg.jp
This article can be read in the following language: 日本語 (Japanese) 한국어 (Korean) 简体中文 (Chinese (Simplified)) Tiếng Việt (Vietnamese)